Dodger rookie Yasiel Puig is baseball's 'Cuban Missile'
Yasiel Puig is off to a sensational start at the plate for the Los Angeles Dodgers. And Puig's throws from right field are turning heads.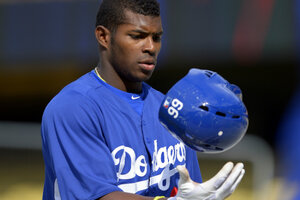 MARK J. TERRILL/AP
Every 10 years or so Major League Baseball finds a rookie like Los Angeles Dodgers outfielder Yasiel Puig, who can hit standing up in a hammock!
The Dodgers didn't scout him. They got him out of Central Casting. He's a product of Cuba: 6 foot 3 inches and 245 pounds of muscle who knows the strike zone.
After five games in the big leagues, the "Cuban Missile" was hitting .464, including four home runs. Overall he had 13 hits in his first 29 trips to the plate. His momentum was thrown off a bit Tuesday night when a 92 m.p.h. fastball thrown by Arizona's Ian Kennedy hit him on the nose. He went 0-for-2 at the plate in that game in which a handful of hit batsmen led to a bench-clearing brawl and the six ejections, including Puig's.
Before that, however, Puig was named National League Player of the Week for the first week of June. Basically there aren't enough superlatives in baseball's rhetoric barrel to emphasize all the things this kid can do.
For those who want Puig to skip his next 10 years in baseball and go straight to the game's Hall of Fame in Cooperstown, N.Y., there are just as many experts who would like to wait until they can examine his offensive figures in 90 days.
When Puig defected from Cuba to the United States in 2012 in the hope of signing a long-term contract with a major-league team, Dodger scouts were among the few who had filed glowing reports on him.
He came with at least a couple of question marks. Although listed as 22 years old, he may be 24, and his throwing arm's condition is clouded by the fact he was sidelined for several months while his right elbow recovered from surgery.
But after Dodger management saw him hit, throw bullets from the outfield to home plate, and run from home to first like an Olympic sprinter, the Dodgers signed him to a seven-year contract worth $42 million.
---