Miami Heat stop Spurs in Game 7, repeat as NBA champions
LeBron James once again led his team to a hard-fought NBA title against a game San Antonio squad.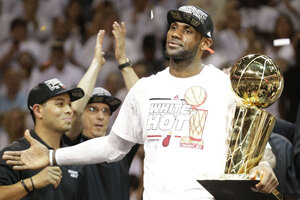 Lynne Sladky/AP
NBA Finals Most Valuable Player LeBron James, Dwyane Wade and Shane Battier did the heavy lifting for the Miami Heat Thursday night in defeating the San Antonio Spurs in the seventh and deciding game, 95-88, to win their second consecutive NBA title at Miami's American Airlines Arena. They are the first team to win back-to-back championships since the 2009-2010 Los Angeles Lakers.
On a night where Chris Bosh, the third leg of Miami's stool, was practically invisible (0 points and five personal fouls in 28 minutes), reserve specialist Battier charged in to prop up the Heat with 18 points on 6 shots from behind the three-point arc, which all seemed to come at times that San Antonio was poised to make a scoring run. He strongly complemented James' 37 points, including 5 three-pointers (as well as 12 rebounds), and Wade's 23 points and 10 boards. The Heat's Mario Chalmers also hit double-figures with 14 points on 6-of-15 shooting.
The Spurs got four players into double-digit scoring, led by Tim Duncan's double-double of 24 points and 12 rebounds; Kawhi Leonard's 19 points and mammoth 16 boards, and Manu Ginobili's 18 points (including 2 threes). But this was offset by mediocre play from Tony Parker, who was only 3-of-12 from the field (10 points) and Danny Green, who notched a meager 5 points in 36 minutes, while going 1-of-6 from behind the arc and only 1-of-12 overall from the floor. And even with Ginobili's point total, he still turned the ball over four times and committed four personal fouls. In total, San Antonio gave up 20 points off of their 15 collective turnovers.
---