How the Alex Rodriguez fiasco could have a happy ending
With a 211-game suspension hanging over him as he appeals, Alex Rodriguez's career could be in jeopardy. But he's got two months on the field to set things right – for the Yankees, at least.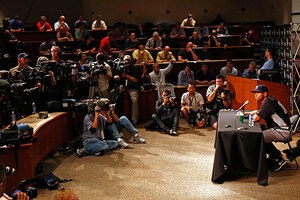 Charles Cherney/AP
Amid boos at US Cellular Field in Chicago on Monday night, New York Yankee third baseman Alex Rodriguez took the field for the first time this year, beginning what may be the final on-field chapter of a tumultuous, storied career.
New Yorkers are gearing up for the drama of yet another dragged-out scandal, but the player who has hit 647 home runs over an astonishing 20-year career now has the slimmest of chances to salvage a moment or two of triumph.
"I just hope that there's a happy ending there somewhere," Rodriguez said after Monday's 8-1 loss to the Chicago White Sox. Earlier he described the last seven months as "a nightmare..., probably the worst time of my life."
Things have not been much better for the Yankees, who sit in fourth place in the American League East, 10 games behind the archrival Boston Red Sox. And therein lies perhaps Rodriguez's last chance for a silver lining. Facing the prospect of a potentially career-ending 211-game ban at the end of the season, Rodriguez could gain a measure of redemption if he leads the Yankees on an improbable playoff run.
Rodriguez's pursuit of a happy ending will include a gaggle of lawyers pecking at the details of his involvement with Biogenesis, the Florida clinic that gave performance-enhancing drugs to major league players. And his decision to fight the suspension for his connection to the clinic means that a string of leaks detailing his involvement with the shady underworld of performance-enhancing drugs is likely to follow him until his appeal is heard after the season.
Not to mention all the boos and taunts. On Monday, there was something surreal to seeing Rodriguez on the field, returning from injuries that had kept him out all season, on the exact same day he received largest non-lifetime ban baseball has ever handed down.
---