Could Tim Tebow cut it in Canada or the Arena league? (+video)
Tim Tebow was cut by the New England Patriots and passed over by every other team this weekend. But the Canadian and Arena Football Leagues present intriguing possibilities.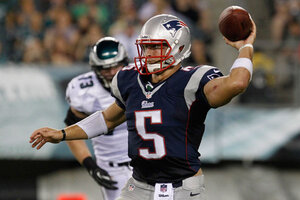 Tim Shaffer/Reuters/File
Tim Tebow's dream of being a National Football League quarterback is not finished yet. But now he must decide how much he wants it.
Tebow was cut by the New England Patriots Saturday, and none of the NFL's other 31 teams wanted him, meaning he now has no clear future in the league. But he does have a future, and in that future, a potential return to the NFL is not impossible.
Yes, we have arrived at the point of Tebow's professional football career that many thought inevitable – the point at which he must decide whether to play in Arena Football League or the Canadian Football League. If they'll have him.
When Tebow was cut by the Jets earlier this year, at least three indoor football teams expressed an interest in signing him. They probably still would. If Tebow signed for the Orlando Predators in his native Florida, he would create more racket than a shuttle launch. He would be indoor football's David Beckham.
Meanwhile, the team in Canada that holds Tebow's rights has taken a quarterback with similarly gruesome throwing mechanics and turned him into perhaps the most successful player in league history.
In either league, Tebow would still be a project. His greatest weaknesses – passing accuracy and quick decisionmaking – would be exposed cruelly. As much as the NFL has become a passer's league, the CFL and Arena league do it more. If you cannot pass, you cannot win, and if Tebow cannot begin to find the broadside of barns with his passes, he'll soon find himself without a job again – and nowhere else to turn.
---