Carrie Underwood takes on 'Sunday Night Football' theme
Carrie Underwood has taken over the musical introduction for NBC's 'Sunday Night Football' from singer Faith Hill. Carrie Underwood is also starring on the network's live holiday production of 'The Sound of Music.'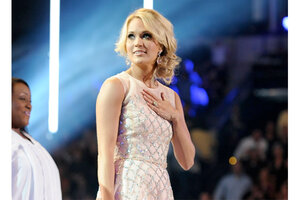 Frank Micelotta/AP
Carrie Underwood has taken the handoff from Faith Hill to perform the musical introduction for NBC's "Sunday Night Football," but don't expect the two country superstars to sing it the same way.
Hill performed the song for the last five seasons before Underwood took over this year. The singer says she wanted to put her own style on "Waiting All Day for Sunday Night," the theme song based on Joan Jett's rock 'n' roll anthem "I Hate Myself for Loving You." Underwood's version debuts Sunday before the Dallas Cowboys host the New York Giants.
"We were definitely mindful – she had put her mark on it for so many years," Underwood said in a telephone interview. "We definitely wanted to go in and make sure we switched gears a little bit and made it sound more like me. And changed up the look and the feel just so it wasn't, you know, the same song with a different blondie up there singing it."
Besides the football theme song, the former "American Idol" champion spoke with the Associated Press about expanding her acting experience by starring as Maria in NBC's live holiday production of "The Sound of Music" and also returning with Brad Paisley as co-hosts for the 47th annual Country Music Association Awards on Nov. 6 on ABC.
AP: Did you aim to make the theme song sound more country than the original?
Underwood: I used my producer so there are going to be some elements that sound like me, of course, that's what we wanted. But we weren't like, "Hey, let's use some fiddle," or, "Hey, let's use some steel guitar." ... We just wanted to make it me and make it fit the situation.
AP: Are you nervous about learning lines for "Sound Of Music"?
---