OSU allegations: Did Oklahoma State pay football players?
OSU allegations by Sports Illustrated potentially point to a lack of institutional control at Oklahoma State University. The sports magazine is publishing excerpts from their reporting of OSU allegations online this week.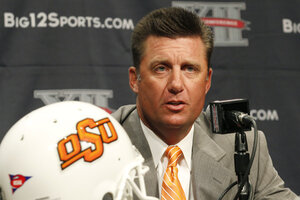 Tim Sharp/AP
The football program at Oklahoma State University appears to be in some very hot water, according to investigative reporting by Sports Illustrated.
The weekly sports magazine cites allegations against the Cowboys football team that include payments to players by both coaches and boosters, academic fraud, lax enforcement of athletic department drug policy, and football recruits having sex with women representing the OSU football program as campus 'hostesses.'
Sports Illustrated reports that the alleged infractions occurred between 2001 and 2010. Current Louisiana State head coach Les Miles was head coach at OSU from 2001 to 2004. Former Cowboys quarterback Mike Gundy became Oklahoma State head coach in 2005.
Oklahoma State athletic director Mike Holder apologized to his fellow athletic directors around the Big 12 Conference on Monday in advance of the SI story being published in daily online excerpts that began Tuesday.
"I apologize to all the athletic directors in the conference for what's about to happen, for what's about to be said about a member institution," Mr. Holder said at a news conference without taking questions. "That reflects on everyone, all our brothers and peers, we're very remorseful about that."
---