OK baseball fans, do you know your major-league ballparks?
In no other major pro sport do the field dimensions and personalities of stadiums vary as much as in baseball. They, in a sense, are the "10th man" on the field. Here are 30 questions to test your knowledge of the 30 big-league parks.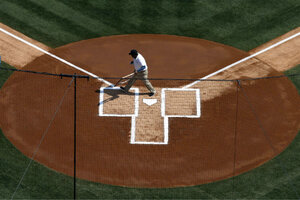 MIKE SEGAR/REUTERS
Question 1 of 30
1.

Where is the oldest retractable dome in the majors?
Seattle (Safeco Field)

Miami (Marlins Park)

Toronto (Rogers Centre)

Houston (Minute Maid Park)