NFL Week 6: Patriots, Chargers look to rebound from last week's losses
The featured games in NFL Week 6 include a quartet of former Super Bowl-championship clubs going head-to-head and a pair of quarterbacks striving to reach the next level.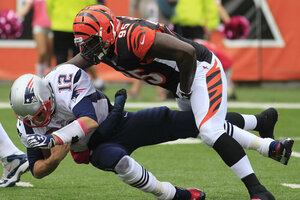 Tom Uhlman/AP
The first quarter of the season is over and report cards are out for all the NFL teams.
The Indianapolis Colts (4-1), New Orleans Saints (5-0) and Denver Broncos (5-0) have passed with flying colors, while the New York Giants (0-6), Pittsburgh Steelers (0-4), and Atlanta Falcons (1-4) have flunked their way out of contention. The jury is still out on the Dallas Cowboys (2-3), Chicago Bears (4-2), and Cincinnati Bengals (3-2) who have impressed some weeks and fallen flat others.
This week, the must-see games feature a battle of two of the strongest teams in the league, a reborn quarterback facing one the emerging talents at the position, and two contenders who have struggled out of the gate.
Rob Gronkowski could return to the lineup for the New England Patriots as they look to hand the undefeated Saints their first loss of the season, while the Jekyll-and-Hyde Baltimore Ravens host the Green Bay Packers and the Colts look to stay hot against the resurgent San Diego Chargers.
---