Javascript is disabled. Quiz scoring requires Javascript.
How much do you know about Michigan basketball? Take the Wolverine quiz.
Even after they store the footballs away in Ann Arbor, Mich. frequently makes its mark with a high-powered basketball team that has made it to the Final Four seven times since the 1960s. Test your knowledge of Wolverine basketball with this 15-question quiz.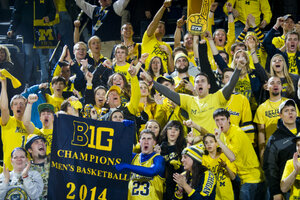 TONY DING/AP
1.

What are the energized fans in Michigan's student cheering section called?