How much do you know about 100-year-old Wrigley Field?
The second-oldest ballpark in the major leagues, after Boston's Fenway Park, has been a popular destination for long-suffering Chicago Cubs fans since 1914. See how you stack up against other Wrigley lovers by taking this 20-question quiz.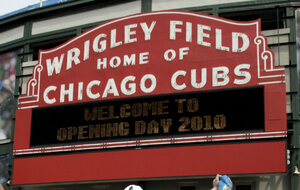 CHARLES REX ARBOGAST/AP/FILE
Question 1 of 20
1.

What is a new Wrigley Field attraction in 2014?
Cup holders at every seat

A mascot

Jumbotron video board

Cheerleaders