Landslide on Puget Sound part of a geological pattern. Is it over?
(Read article summary)
The massive landslide on Whidbey Island near Seattle this week is part of a larger complex of slides on Puget Sound islands going back thousands of years. It may not be over yet.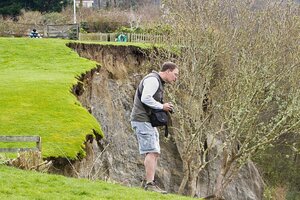 Mike Siegel/The Seattle Times/AP
The massive landslide on Whidbey Island about 50 miles north of Seattle may have happened in seconds, but its history is measured in geological time, so it may not be over yet.
It's a small portion of a much larger landslide complex about a mile and a half long that may date back as far as 11,000 years, according to Washington State geologists, and it's still moving, however slightly.
For now, the evaluation and recovery effort is focusing on assessing damages – particularly to the homes that residents have not been allowed to return to.
No one was killed or injured in the slide, which occurred at about 4:00 a.m. Wednesday morning.
But it did move one beachside home – now deemed uninhabitable – some 200 feet off its foundation, Eric Brooks, deputy director for emergency management at Island County (which includes nine islands in Puget Sound), told the Seattle Times. It also took out 300 to 400 feet of a road leading to the beach, leaving 17 homes unreachable and without power because the slide also took out the utility poles.
The slide displaced some 200,000 cubic yards of earth, or approximately 40,000 dump truck loads, state officials said. Twenty properties on a scenic island hillside were damaged by the slide, with some suffering structural damage and others losing portions of their yards, reports the Associated Press.
The landslide into Puget Sound lifted the beach as much as 30 feet above the previous shoreline, state geologists said in a preliminary report Thursday.
---