Alabama joins new antiabortion drive, legal challenge may be next
(Read article summary)
Alabama joins Kansas, Arkansas, and North Dakota among states that have already tried to dial back abortion access in 2013. Alabama's legislation adds new building requirements for clinics.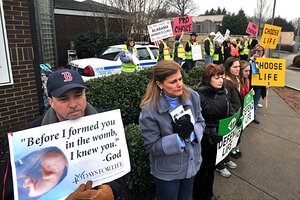 Sarah Cole/AL.com/AP/File
Alabama lawmakers approved a bill late Tuesday night to tighten requirements on abortion clinics in the state, joining a group of Southern and Western states that have already passed similar regulatory legislation this year.
After sailing through the Senate earlier in the evening, the Women's Health and Safety Act passed the House along largely partisan lines just before midnight. The law includes a provision requiring all doctors performing abortions in the state have admitting privileges at a local hospital, and it adds new building requirements for facilities that host the procedure.
Supporters say the bill is not designed to restrict abortions, but rather to make them safer.
"If an abortion clinic is truly dedicated to providing adequate care, ensuring dependable safeguards, and putting patients' needs before profits, it will embrace this legislation rather than oppose it," said the bill's sponsor, state Rep. Mary Sue McClurkin (R), in a statement. "I am proud that the state of Alabama is daring to defend the right to life."
But opponents say that the bill is a backdoor attempt to run Alabama's four abortion clinics out of business. Most rely on out-of-state doctors to perform abortions, which would run afoul of the new admitting-privileges provision. And the majority of the clinics are not in line with the new building codes – requiring, among other things, doors and hallways wide enough to transport patients on gurneys – according to the state Department of Public Health, the Associated Press reports.
---