Behind prosecutor's withdrawal, 'Aryan' prison gang's legacy of violence
(Read article summary)
A US Attorney has pulled out of a major racketeering case aimed at the Aryan Brotherhood of Texas prison gang. This follows the killing of several officials who had gone after such gangs.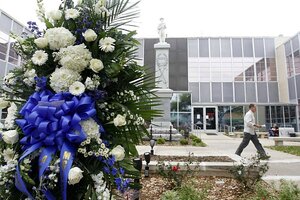 Richard W. Rodriguez/REUTERS
The withdrawal of an assistant US attorney from a major racketeering case in Texas appears tied to personal concerns about a white supremacist prison gang's propensity for violence.
The case involves charges against 34 members of the Aryan Brotherhood of Texas, a group investigators say may be tied to the shooting death of Kaufman County District Attorney Mike McLelland and his wife in their home Saturday, as well as to the death two months earlier of county prosecutor Mark Hasse, who was shot and killed in a parking lot near the county courthouse.
Mark Potok of the Southern Poverty Law Center, which tracks hate groups, describes the Aryan Brotherhood of Texas (ABT) as "arguably the most violent white supremacist prison gang out there."
"It is said to be one of the gangs that live by the 'blood-in, blood-out' code, meaning that you can only get into ABT by carrying out some kind of attack," Mr. Potok told CNN. "And similarly ... you can only leave in a body bag."
---