Colorado prison chief death: two white supremacists sought
(Read article summary)
James Lohr and Thomas Guolee, said to be part of the 211 Crew, have been identified as persons of interest in the March 19 slaying of Colorado prison chief Tom Clements.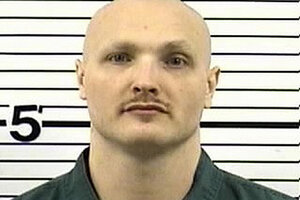 Colorado Department of Corrections/AP
Investigators in the case of slain Colorado prison chief Tom Clements have begun a search for two white-supremacist prison gang members identified as persons of interest in the case.
The men, James Lohr and Thomas Guolee, are said to be part of the 211 Crew, a gang whose members also included Evan Ebel, the primary suspect in Mr. Clements's killing. Mr. Ebel died in a shootout with police two days after the March 19 slaying.
Authorities have not elaborated on a tie between Ebel and Messrs. Lohr and Guolee, except to say they believe the three were in touch before the killing, The Denver Post reports.
But the warning issued Wednesday evening by the sheriff's office in El Paso County, where Clements was killed, is the first indication that other members of the white supremacist group may have been involved in the slaying.
"These are a couple of names that have come up during the ongoing investigation of the Clements murder," Lt. Jeff Kramer, the public information officer for the sheriff's office, told the Post. "Because of the circumstances where you have violent folks who are willing to execute a [Department of Corrections] official, we don't want to underestimate these guys."
Both Lohr and Guolee are wanted on charges unrelated to Clements's death, the sheriff's office said, and both are believed to be armed. Kramer said one or both of the men may be headed to Nevada or Texas.
The investigators' announcement came the same day as reputed 211 gang "shot caller" Benjamin Davis was sentenced in a Denver court to an additional 108 years in prison on a racketeering charge. Mr. Davis, who is already serving a 30-year conviction for robbery and assault, founded the white supremacist gang in 1995 at Denver County Jail after he claimed his jaw had been broken by a black inmate, the Post reports.
---