Mental evaluation set for suspect in Lone Star College stabbings
(Read article summary)
Five of 14 people hurt during a knife attack at Lone Star College remain hospitalized in good condition Wednesday. Dylan Quick, a student, has been charged in Tuesday's stabbings.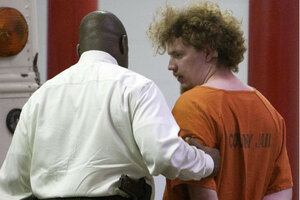 Cody Duty/Houston Chronicle/AP
Police have charged one man in Tuesday's stabbing rampage at a Houston-area community college, during which 14 people were injured.
Dylan Quick, a student at Lone Star College's Cy-Fair campus, is being held without bond and is charged with three counts of aggravated assault with a deadly weapon. Five people remain hospitalized, though they are all in good condition, hospital officials said. Mr. Quick will appear in court Thursday in Houston, according to the Associated Press.
In a voluntary statement to authorities, the suspect admitted that "he has had fantasies of stabbing people to death since he was in elementary school," according to a news release from the Harris County Sheriff's Office. "He also indicated that he has been planning this incident for some time," it stated.
On Wednesday, Quick will undergo a psychological evaluation, the Harris County District Attorney's Office told CNN.
Quick's neighbors said they were taken aback to learn that the shy man who often helped his parents with yard work could be tied to something like this.
Next-door neighbor Michael Lincoln was surprised that the "very friendly kid" was implicated in the incident. Quick helped Mr. Lincoln pull down a branch that had fallen on his roof last week.
"He's not aggressive," Lincoln told the Houston Chronicle. He added that Quick did keep mostly to himself.
"He doesn't have any friends. Nobody comes over there," Lincoln said. "He stays inside most of the time."
Magdalena Lopez, who has lived across the street from the Quick family for 15 years, said she couldn't believe that Quick would do this.
---