Home prices up 12 percent as investors bet on real estate
(Read article summary)
The US housing market, long the sluggard in the recovery, builds on its rebound, with prices of existing homes up 12 percent last month from a year ago. In a twist, many buyers aren't individuals but rather corporate investors.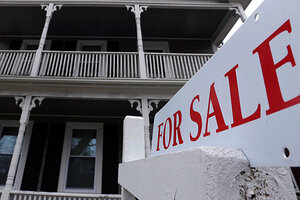 Steven Senne/AP/File
Prices of existing homes in the United States rose 12 percent in March from the same month last year, as the real estate market continues to bounce back, providing much-needed help to the nation's economy.
A key factor in housing's recovery is strong demand from major corporate investors, who see profit in the combination of still-depressed real estate prices, near-record-low interest rates, and strong demand for rental housing. The Washington Post reported Monday that institutional investors are bidding on hundreds of homes each day and account for as much as 70 percent of sales in some Florida markets.
The National Association of Realtors says that the median price of homes sold in March, buoyed by strong demand, was $184,300, 11.8 percent higher than in March 2012. The March price increase is the biggest since November 2005.
The pace of sales activity in March actually slipped a bit, declining 0.6 percent on a seasonally adjusted basis to 4.92 million. But the rate of sales in March was still 10.3 percent faster than March 2012. Existing home sales have now been above year-earlier levels for 21 consecutive months.
In a statement, National Association of Realtors chief economist Lawrence Yun said there is more demand than supply in the housing market.
"Buyer traffic is 25 percent above a year ago when we were already seeing notable gains in shopping activity," he said. "In the same time frame housing inventories have trended much lower, which is continuing to pressure home prices."
---