In a first, black voter turnout surpassed white turnout in 2012
(Read article summary)
High black voter turnout, plus a lower turnout from white voters, gave President Obama the edge in swing states and a victory in 2012, signaling the importance of minority voters going forward.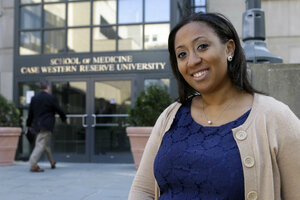 Mark Duncan/AP
For the first time, black voters went to the polls at a higher rate than white voters on Election Day 2012 – a shift that gave President Obama the margin of victory he needed to win the states of Ohio, Pennsylvania, Virginia, Florida, Colorado, and, as a result, a second term.
Had all racial groups turned out at the same rate as they had in 2004 or '08, Mitt Romney would have won the election, according to a new analysis of census data and exit polling by the Associated Press.
"The 2008 election was the first year when the minority vote was important to electing a US president. By 2024, their vote will be essential to victory," said William Frey, a demographer at the Brookings Institution in Washington, who analyzed the data.
For the next decade, whites and blacks will remain the two largest racial groups, but by 2024, 1 in 3 voters will be nonwhite, according to the AP analysis, released Monday.
---