Ricin letters: What's the evidence against new suspect, per the FBI affidavit?
(Read article summary)
James Everett Dutschke, accused of mailing three letters containing ricin, was arrested Saturday at his home. He is being held without bond until a preliminary hearing Thursday.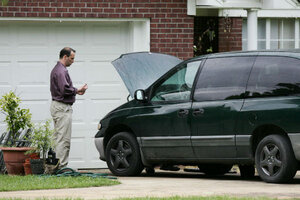 Thomas Wells/Northeast Mississippi Daily Journal/AP
The Mississippi man accused of sending poison-laced letters to President Obama and two other public officials allegedly ordered materials used to make the toxic substance on eBay, court documents reveal.
James Everett Dutschke purchased 100 red castor beans, which can be used to make the biotoxin ricin, in November and December 2012, according to eBay records listed in an FBI affidavit unsealed Tuesday.
"I understand that the number of castor beans ordered is more than sufficient to extract the quantity of ricin found in the three letters," Special Agent Stephen Thomason wrote in the affidavit, Reuters reported. Three letters containing ricin – addressed to Mr. Obama, Sen. Roger Wicker (R) of Mississippi, and Judge Sadie Holland of Lee County, Miss. – were discovered last month.
FBI agents found traces of ricin in Mr. Dutschke's martial arts studio in Tupelo, Miss., and on items they saw him dump in a public trash can, according to the affidavit. Agents sealed off the martial arts studio, which is located in a small shopping center.
---