Police ask how three women in Cleveland kidnapping went undetected so long
(Read article summary)
The news that three women – Amanda Berry, Gina DeJesus, and Michelle Knight – were held in a Cleveland home for about a decade shocked neighbors, who said they didn't notice anything.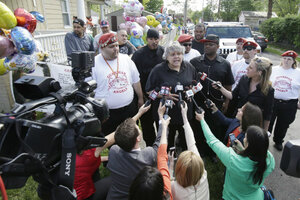 Tony Dejak/AP
Cleveland police on Monday night arrested three brothers in connection with kidnapping and holding captive three women for the past decade – a situation that left neighbors wondering why they had not noticed suspicious activity.
Suspect Ariel Castro owns the house where Amanda Berry, Gina DeJesus, and Michelle Knight were held captive for about 10 years until Ms. Berry escaped Monday evening and called 911, Police Chief Michael McGrath said at a news conference Tuesday morning. Mr. Castro's brothers – Pedro Castro and Onil Castro – were also arrested, though they do not live at the house.
Berry identified Ariel Castro as her captor in her frantic 911 call Monday evening, according to the call transcript. Police say they believe they have the right people in custody, but the investigation could take many weeks.
"We have several unanswered questions," said Cleveland Mayor Frank Johnson at a press conference Tuesday. "Why were they taken? How were they taken? And how did they remain undetected in the city of Cleveland for this period of time?"
Neighbors on Seymour Avenue on the west side of Cleveland are surprised that the women were found in the house of Castro, a nice guy who attended neighborhood barbecues and offered kids rides on his four-wheeler.
"I'm not the only one on the block that feels ashamed to know that we didn't notice anything," Juan Perez, who grew up two houses down the block, told WEWS-TV Monday night. "I mean, I feel like my head's low, I work at a school, I work with kids ... I have a heavy heart right now."
---