IRS apologizes for singling out conservative groups: How did it happen?
(Read article summary)
The IRS acknowledges it gave additional scrutiny to the tax-exemption applications of conservative groups. Top Republican lawmakers are calling for a White House investigation into the agency.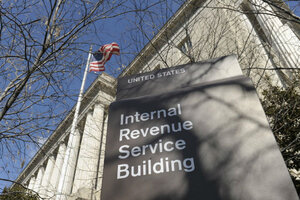 Susan Walsh/AP/File
The Internal Revenue Service singled out conservative political groups for additional scrutiny of their tax-exempt status during the 2012 election, which conservative groups say is proof that the IRS has been unfairly targeting them.
About 75 organizations with "tea party" or "patriot" in their tax-exemption applications received extra review during a broader screening process of political advocacy groups, said Lois Lerner, who oversees the tax-exemption division at the IRS.
"That was wrong. That was absolutely incorrect, it was insensitive, and it was inappropriate," Ms. Lerner said Friday at a conference sponsored by the American Bar Association. "That's not how we go about selecting cases for further review. The IRS would like to apologize for that."
Low-level employees in Cincinnati initiated the practice to deal with an influx of tax-exemption applications between 2010 and 2012, Lerner said.
"Mistakes were made initially, but they were in no way due to any political or partisan rationale," said the IRS in a statement. "We fixed the situation last year and have made significant progress in moving the centralized cases through our system."
Conservative groups accused the IRS of targeting them during the 2012 election by sending additional questionnaires for their applications. So for them, the IRS apology is too little, too late.
---