Severe Texas tornadoes 'hopscotch' through rural communities, killing six
(Read article summary)
Severe storm system produced a cluster of tornadoes and grapefruit-size hail that ripped through north Texas rural communities, flattening homes and driving residents to shelter.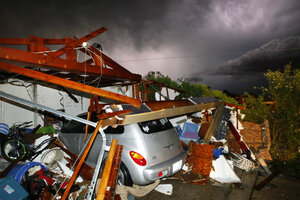 Tom Fox/The Dallas Morning News/AP
Several tornadoes ripped through rural communities in north Texas late Wednesday, leaving at least six people dead, 14 missing, and more than 100 injured, officials said.
A cluster of thunderstorms produced as many as 10 tornadoes in the area, creating winds up to 100 m.p.h. and dropping grapefruit-size hail. Residents in Granbury, Texas, the hardest-hit area, reported that the violent storm flattened homes, threw cars and trailers, and stripped branches off trees.
Elizabeth Tovar hid with her family in their bathroom when fist-size hail balls warned of an imminent tornado.
"We were all, like, hugging in the bathtub and that's when it started happening," Ms. Tovar said. "I heard glass shattering and I knew my house was going. We looked up and ... the whole ceiling was gone."
After the storm hit Granbury, officials evacuated the town's Rancho Brazos subdivision, built mostly by Habitat for Humanity, where more than 100 homes were badly hit.
"Most of the neighborhood is heavily damaged to destroyed," Hood County Sheriff Roger Deeds told the Fort Worth Star-Telegram. "Very little is untouched."
Sheriff Deeds said a tornado warning for the town was issued at 8:10 p.m., so some residents received advance warning. A tornado warning for all of north Texas was issued at 6 p.m. as storm cells developed between Wichita Falls and Fort Worth, weather service meteorologist Mark Fox told the Star-Telegram.
Tornadoes are normal for this season, but this outbreak is the deadliest so far this year.
---