FBI hunting for Jimmy Hoffa again, 38 years after his disappearance
(Read article summary)
The FBI is again hunting for the body of former Teamsters President Jimmy Hoffa, whose 1975 mysterious disappearance remains unsolved. This time: a grassy field in Oakland Township, Mich.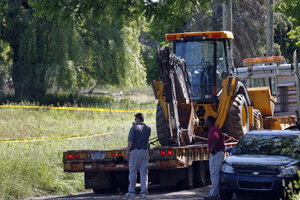 Rebecca Cook/Reuters
The Federal Bureau of Investigation is once again hunting for the body of former International Brotherhood of Teamsters President James "Jimmy" Hoffa, whose mysterious 1975 disappearance remains unsolved.
The government executed a search warrant Monday in a grassy field in Oakland Township, Mich., about 45 miles north of Detroit, Robert Foley III, special agent in charge of the FBI's Detroit office, told reporters. The search is "based on information that we have involving the disappearance of Jimmy Hoffa," the Associated Press quoted Mr. Foley as saying.
Oakland County Sheriff Michael Bouchard, who spoke along with Foley, said, "It is my fondest hope that we can give … closure not just to the Hoffa family but also to the community," according to a report from the Detroit Free Press.
Neither official explained what led them to the site being excavated by a backhoe. But Fox News quoted its local Detroit affiliate as saying that Tony Zerilli had said earlier this year that Hoffa was buried in the vacant lot and that the plan had been to move his remains once the initial search cooled down. Mr. Zerilli is the son of a reputed Mafia figure.
---