Times Square 'bike bomber' video released, FBI seeks Twitter tips
(Read article summary)
The 2008 Times Square bombing damaged a military recruiting center but didn't hurt anyone. Law enforcement is renewing its efforts to find a suspect it is calling the bike bomber.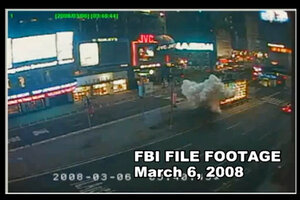 FBI/AP
The Federal Bureau of Investigation and the New York Police Department are renewing their efforts to solve a 2008 bombing in Times Square that damaged a military recruiting center by boosting the reward, releasing new video footage, and seeking tips on Twitter.
The 3:43 a.m. explosion on March 6, 2008, damaged the Armed Forces Career Center located in the heart of the city in an area normally crowded with tourists. The explosion blew a hole through the front door of the structure, according to reports at the time. No one was injured in the blast.
"While published reports have repeatedly cited the early morning time of the attack and the lack of casualties, the fact is the bomber narrowly missed killing or injuring passers-by who can be seen clearly in the vicinity, moments before the blast," Commissioner Ray Kelly of the NYPD said Tuesday, according to a Fox News report.
---