NFL player Aaron Hernandez charged with murder. Video evidence is cited.
(Read article summary)
The New England Patriots cut Aaron Hernandez after his arrest at home Wednesday for the murder last week. Prosecutors said the tight end 'orchestrated' the 'execution' of the victim.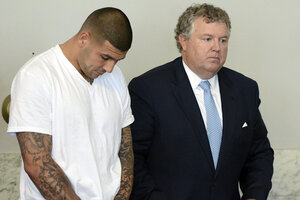 Mike George/The Sun Chronicle/AP
NFL tight end Aaron Hernandez was charged with murder Wednesday afternoon in the death of an acquaintance, a semi-pro football player from Boston, the dramatic culmination of several days of what appeared to be patient evidence-gathering by investigators.
Mr. Hernandez was arrested at his home Wednesday morning following an investigation that began last week with the discovery of a body, later identified as a Odin Lloyd, in a North Attleborough, Mass., industrial park near Hernandez's home.
In a hearing Wednesday at a district court in Attleboro, Mass., prosecutors alleged that Hernandez had "orchestrated [Mr. Lloyd's] execution" after a disagreement at a Boston nightclub June 17, citing evidence from surveillance videos taken the night of the murder, according to Boston.com.
Shortly after video of a handcuffed Hernandez being led out of his home was broadcast, the New England Patriots issued a statement saying he had been cut from the team.
"A young man was murdered last week and we extend our sympathies to the family and friends who mourn his loss," the team wrote. "Words cannot express the disappointment we feel knowing that one of our players was arrested as a result of this investigation…. At this time, we believe this transaction is simply the right thing to do."
As the investigation into the 23-year-old's alleged involvement in Lloyd's death progressed, police made repeated searches of the Hernandez home and surrounding areas, and a daunting list of potential links between Hernandez and the murder mounted.
---