Controversial Texas abortion bill will pass in new session, Rick Perry vows
(Read article summary)
A day after calling for another special legislative session, Texas Gov. Rick Perry vigorously defended the failed abortion bill Thursday at the National Right to Life Convention in Dallas.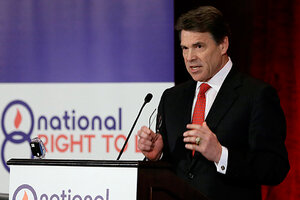 Tony Gutierrez/AP
Texas Gov. Rick Perry (R) vigorously defended controversial Texas abortion legislation Thursday, saying it would pass and the dramatic defeat of the bill Tuesday was "nothing more than the hijacking of the democratic process."
"This is simply too important a cause to allow unruly actions of a few to stand in its way," Governor Perry said at the opening session of the National Right to Life Convention in Dallas. The organization, which supports grass-roots opposition to abortion rights, had previously scheduled its annual national conference to be held in that city this week.
The abortion legislation had failed at the end of a special legislative session, and on Wednesday, Perry used his gubernatorial powers to call another special session, this one to begin July 1. Texas lawmakers will have 30 days to pass the bill – enough time, supporters hope, to avoid the stalling tactics that allowed Democrats to defeat the bill despite having fewer votes than Republicans.
"Through their duly elected representatives, the citizens of our state have made crystal clear their priorities for our great state," Perry said in a statement Wednesday. "Texans value life and want to protect women and the unborn."
Perry used his speech Thursday to warn lawmakers that he is fully committed to passing the controversial abortion bill, which drew national attention after a filibuster by state Sen. Wendy Davis (D) and a raucous crowd at the State Capitol defeated the bill in dramatic fashion.
---