Who was on top in Zimmerman-Martin tussle? Witness testimony in conflict.
(Read article summary)
On Friday, a neighbor of George Zimmerman testified that it appeared Trayvon Martin was on top, but two other neighbors had given accounts pointing to the opposite scenario.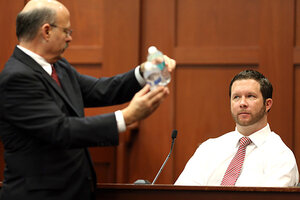 Joe Burbank/Orlando Sentinel/AP
A neighbor of George Zimmerman testified in Mr. Zimmerman's murder trial Friday that it appeared Trayvon Martin was straddling and striking Zimmerman before the unarmed teenager was shot.
The neighbor, Jonathan Good, said he went outside after hearing a noise outside his town house on Feb. 26, 2012. Mr. Good said he saw what looked like a "tussle" when he stepped onto his back patio.
"What's going on? Stop it," Good said he yelled.
Good returned inside to call 911 and was on the phone with police when he heard a gunshot.
However, Good said he did not see anyone's head being slammed into the concrete sidewalk, which Zimmerman's lawyers say Trayvon did to him. Good initially testified that it appeared "there were strikes being thrown, punches being thrown," but during detailed questioning, he said he saw only "downward" arm movements being made.
Good, who lived in the same gated community in Sanford, Fla., as Zimmerman, was the fourth neighbor who partially witnessed the death of Trayvon to testify in the trial, Reuters notes.
"Each has given slightly different accounts," Reuters notes.
Good's testimony complicates the picture for jurors after two other neighbors testified Thursday that they believed Zimmerman was on top. But unlike Good, those neighbors did not see the fight before the gunshot was fired.
Neighbor Selma Mora testified Thursday "that after she heard what she now believes was a gunshot, she rushed outside and saw the man who survived the fight on his knees straddling Trayvon," according to The Orlando Sentinel. "That man then stood up and began pacing, she said."
Jennifer Lauer, a former neighbor of Zimmerman, testified that she heard yelps for help outside her town home on the night Trayvon was shot, but couldn't tell who was screaming.
---