Marijuana legalization: The blustery crosscurrents of change
(Read article summary)
Marijuana legalization: Colorado Springs is among the cities debating whether to allow retail sales of marijuana for recreational use. New Hampshire may soon be the 19th state to support marijuana legalization for medical use.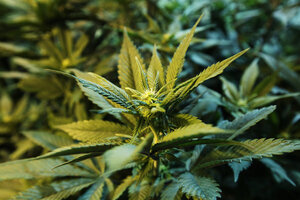 Ted S. Warren/AP/File
When it comes to marijuana legalization, the pot-scented winds of change are blustery. It's sometimes hard to read the prevailing winds.
Eighteen states have legalized the use of marijuana for medical use. New Hampshire looks likely to be come No. 19. Last November, voters in Colorado and Washington took legalization a step further by approving the use of cannabis for recreational use.
But the new Colorado law allows every municipality to regulate retail sales of marijuana for recreational use – or opt out. On Thursday, some 60 residents turned out for a Colorado Springs City Council meeting held to give residents an opportunity to share their views. And if this meeting is any indication, the debate on marijuana legalization continues at the local level.
The Gazette in Colorado Springs reported:
"Selling marijuana in retail stores could lead to more traffic crashes and fatalities, said Colorado Springs Police Chief Pete Carey. On the other hand, selling marijuana could boost the economy with jobs and sales tax revenue. For every point there was a counterpoint as residents in a standing-room only hall waited patiently to speak."
The new state law requires each city to decide on whether to allow marijuana sales – or not – by Oct. 1. Colorado Springs City Council member Jan Martin said they expect to make a decision by July 23.
So far, 34 Colorado cities and counties have banned retail marijuana sales; 25 cities or counties have put a moratorium on sales and will take action at a later date, said Ms. Martin, according to The Gazette.
Rosemary Harris Lytle, president of the NAACP Colorado/Montana/Wyoming State Conference, spoke out in favor of Colorado Springs retail sales. The NAACP endorsed Colorado's Amendment 64, "because of the impact of incarceration on young men and women of color," she said. "We know from our research that possessing a joint has great impact on the lives of young people."
Similarly, on June 25 the NAACP came out in favor of a bill allowing recreational use of marijuana in Pennsylvania.
The NAACP says that the war on drugs in America unfairly targets minorities and that there is a "staggeringly disproportionate" arrest rate compared with white drug users, according to The Patriot News.
---