Asiana crash: five clues to help understand what happened
(Read article summary)
Investigators are interviewing the flight's pilots and crew to help determine the cause of the Asiana crash at San Francisco International Airport on Saturday. Here are several factors under scrutiny.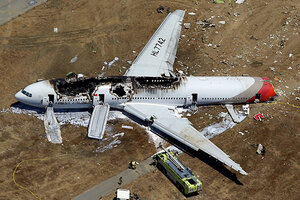 Marcio Jose Sanchez/AP
Investigators expect to spend weeks or months determining what caused Asiana Airlines Flight 214 to crash-land at the San Francisco airport Saturday, killing two of the 307 passengers and crew members aboard.
The National Transportation Safety Board and South Korean investigators are interviewing the flight's pilots and crew this week. Two South Korean investigators are also scheduled to arrive in Washington Tuesday to examine the plane's black box.
As the probe continues, here are five key factors known so far that may have contributed to the crash landing:
1. The plane was approaching the landing too low and too slowly.
Flight 214 was on a straight, 17-mile approach to the San Francisco International Airport on Saturday, according to NTSB Chairman Deborah Hersman, when it quickly lost too much speed and height to make a safe landing.
Data show that the plane's autopilot was turned off 82 seconds before the crash, when the plane was about 1,600 feet in the air, Ms. Hersman said Monday. At 34 seconds before the crash, the plane was at 500 feet and its speed dropped below the level required for a safe landing.
Seven seconds before collision, the cockpit recorder captured a call from somebody in the cockpit to increase the plane's speed, Hersman said, and three seconds later, the control yoke started vibrating to warn of the potential to stall. At 1.5 seconds before the impact, a crew member issued a call to abort the landing, but it was too late to regain speed and height. The tail of the plane appears to have clipped the sea wall there, sending the plane slamming into the runway, where it skidded about 2,000 feet before catching fire.
---