Asiana pilot names: KTVU apologizes for racist prank, but lawsuit possible (+video)
(Read article summary)
Asiana pilot names were wrong and racist, KTVU apologizes. But amid an already controversial investigation into the Asiana Flight 214 crash, the airline threatens legal action.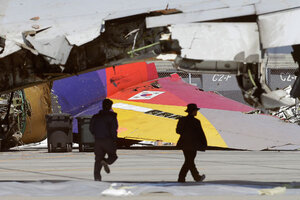 Jeff Chiu/AP
Both the National Transportation Safety Board and KTVU-TV of Oakland, Calif., have apologized for a mistake that led the television station to broadcast incorrect – and racially insensitive – names of the pilots of Asiana Flight 214, which crashed at San Francisco airport July 6, killing three. But the airline is considering legal action against the two organizations, CNN reports.
KTVU on Friday reported what it thought were the names of the Asiana pilots, but the names were clearly fabrications intended as crude phonetic jokes. One of the pilot names reported by KTVU, for instance, was "Wi Tu Lo."
KTVU officials have said that they did not sound out the names before airing the report, nor did they carry out adequate fact-checking. While KTVU called the NTSB to confirm the names, it managed only to reach a summer intern, who falsely affirmed the veracity of the report, both KTVU and the NTSB say. It remains unclear how KTVU got the list of fake names or why the NTSB intern confirmed the names as true.
The report was so offensive that Asiana might have weighed legal action regardless. "The reputation of the four pilots and of the company had been seriously damaged by this report," the airline said in a statement. "The company is reviewing taking legal action against both KTVU-TV and the NTSB."
Yet the controversy also comes amid an investigation that has already angered some in the aviation community. The NTSB, which is typically circumspect in its investigations, releasing information slowly and over months, has provided an unprecedented volume of crucial information to the public in the past week.
---