Juror B37: 'Race did not play a role' in Zimmerman trial. Protesters disagree. (+video)
(Read article summary)
Juror B37 says race was not considered in the decision to acquit George Zimmerman. In a sign of a big disconnect, though, many Americans see race as an unavoidable factor in the outcome for Trayvon Martin.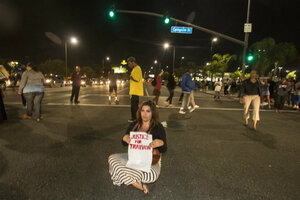 Ringo H.W. Chiu/AP
Despite popular perception, the trial of George Zimmerman for the fatal shooting of black teenager Trayvon Martin had nothing to do with race, according to the first juror to speak publicly since Mr. Zimmerman was acquitted of all charges on Saturday.
"I think all of us thought race did not play a role," the woman known only as Juror B37 said about the jury's deliberations, during an interview on CNN Monday. "We never had that discussion."
Instead, Juror B37 said the jury of six women spent hours poring over the law and the evidence from the trial before determining that Zimmerman did not meet the standards required for a second-degree murder or manslaughter conviction.
"There was a couple of them in there that wanted to find him guilty of something, and after hours and hours and hours of deliberating over the law, and reading it over and over and over again, we decided there's just no way, other place to go," she said.
Juror B37's comments point to the degree to which the legal system succeeded in shutting racial considerations out of the courtroom, but have left many Americans wondering how race could be untangled from the case to begin with.
---