Southwest jet's landing-gear collapse: third major runway accident this month
(Read article summary)
The front landing gear of a Southwest flight collapsed upon landing at New York's LaGuardia airport Monday. This follows runway accidents in San Francisco and London. A government agency says the FAA needs to keep better data on runway accidents.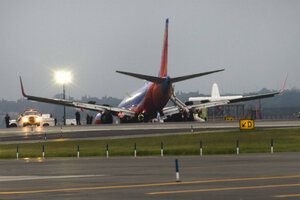 John Minchillo/AP
New York City's LaGuardia Airport fully reopened Tuesday, but flight delays linger a day after the collapse of the landing gear of a Southwest Airlines plane temporarily closed the airport.
Southwest Airlines Flight 345 skidded nose-first into the grass after the landing gear collapsed immediately after the plane touched down on the runway, airport authorities said. Six passengers were taken to a hospital with minor injuries.
Passengers recorded pictures of the plane perched forward in the grass with its emergency escape slides activated.
"I heard some people gasp and scream. I looked over and saw sparks flying at the front of the plane," Bobby Abtahi, an attorney who was waiting in the terminal for a flight to Dallas at the time, told the Associated Press.
Thomas Bosco, acting director of the Port Authority of New York and New Jersey, which oversees the airport, said there was no advance warning of any problems before the landing.
The incident, while limited in its severity, is the third high-profile commercial airline accident in the past month. On July 6, a Boeing 777 flown by Asiana Airlines crashed upon landing at San Francisco Airport, killing three. On July 12, an empty 787 Dreamliner owned by Ethiopian Airlines plane caught on fire on the runway at London's Heathrow airport.
While the Federal Aviation Administration and the National Transportation Safety Board are investigating the two American accidents and conclusions aren't expected for several months, all three incidents fall into one of the areas a federal agency identified this spring as needing further study.
---