Natural gas rig explodes, partially collapses in Gulf. How big a disaster?
(Read article summary)
A natural gas rig off the Louisiana coast exploded Tuesday and continued to burn Wednesday. It's unclear when the well will be plugged, but natural gas spills are different from oil spills.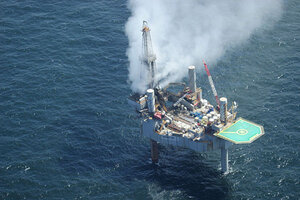 Bureau of Safety and Environmental Enforcement/AP
A natural gas rig that exploded Tuesday morning, burning and leaking natural gas off the Louisiana coast, partially collapsed Wednesday.
Forty-four workers were evacuated Tuesday and no injuries were reported, Eileen Angelico, a spokeswoman for the Bureau of Safety and Environmental Enforcement, said in a statement.
On Wednesday morning, BSEE inspectors reported a cloud of natural gas above the rig and a light sheen on the water, covering an area one-half mile by 50 feet. But they said the sheen had disappeared by Wednesday afternoon.
The cause of the blowout and the fire remain unknown, although questions are being raised about whether there was a problem with the rig's blowout preventers, the safety equipment that is meant to shut off out-of-control oil and gas wells.
A spokesman for the rig's owner, Walter Oil & Gas, "initially said the blowout preventer appeared to have failed, but the company later said it was still investigating the incident and wouldn't know the cause of the blowout, or why the well continued to flow, for some time," reported The Wall Street Journal.
Conflicting reports suggest it's unclear how long it will take to contain the blaze or stop the leak. Two firefighting vessels that were in the area pulled away from the rig after it collapsed and a third firefighting ship is en route, BSEE said.
Talos Energy, which CNN says is connected to the rig, said that it expects the leak to be plugged Wednesday. It said the well leaked about six barrels of a liquid form of raw natural gas, or about 252 gallons, and it expects the mixture to evaporate quickly.
Meanwhile, the Wall Street Journal report says Walter Oil & Gas "is preparing to move another drilling rig nearby in case a relief well is needed to stop the flow of gas." A relief well would intersect the ruptured well and provide another avenue for cement to plug it. This is how the Macondo well that caused the 2010 Gulf oil spill was plugged.
---