Gulf rig explosion: Natural gas leaks have stopped, as probe continues
(Read article summary)
The explosion and fire at a natural gas rig off the Louisiana coast raise new questions about the role of blowout preventers and overall safety of drilling operations in the Gulf.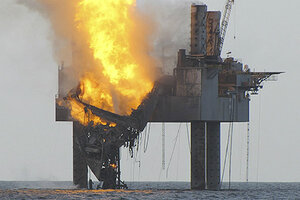 US Coast Guard/AP
The natural gas rig that was burning and leaking off the Louisiana coast is under control, according to federal regulators.
Natural gas has stopped leaking from the well and the fire has decreased to a small flame fueled by residual gas at the top of the well, the Bureau of Safety and Environmental Enforcement (BSEE) and the Coast Guard announced Thursday. The agencies said the leak stopped due to bridging, a well condition where small pieces of sediment and sand flow into the well path and restrict and ultimately stop the flow.
Investigators are still determining what caused the natural gas blowout and subsequent fire, and don't expect to have immediate answers. But the accident is already raising questions about the role that blowout preventers played – and whether safety standards in the Gulf Coast have improved since the 2010 Deepwater Horizon disaster.
The rig's owner, Hercules Offshore, told The Wall Street Journal that the crew tried to shut down the well using a blowout preventer, but weren't able to complete the work before they had to evacuate for their safety.
---