Ariel Castro accepts plea that spares his life – and his kidnapping victims
(Read article summary)
Facing 997 counts, including rape and aggravated murder, Ariel Castro opts for a plea deal for life plus 1,000 years in prison without parole, sparing himself the death penalty and the women he kidnapped from testifying.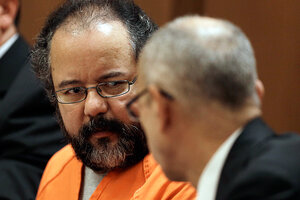 Tony Dejak/AP
The man accused of kidnapping three Cleveland women and keeping them captive in his house for a decade pleaded guilty Friday in a deal to avoid the death penalty.
As a result, Ariel Castro will be sentenced to life without parole plus 1,000 years, prosecutors said. The plea deal recommends that Mr. Castro never receive a parole hearing.
Mr. Castro is accused of kidnapping and hiding Amanda Berry, Gina DeJesus, and Michelle Knight in his house for a decade under brutal conditions, including repeatedly binding the women with chains or rope and forcing starvation, beatings, and sexual assault.
Castro had been charged with 977 counts, including kidnapping and rape, and two counts of aggravated murder for allegedly impregnating one of the women and then causing her to miscarry.
By negotiating a plea deal, prosecutors ensured that the women will not have to testify against Castro in court, something their lawyers said they wished to avoid.
Last month a statement issued on behalf of the women said they were "hopeful for a just and prompt resolution" and had "great faith in the prosecutor's office and the court."
---