Guns in schools: Arkansas district will arm 20 teachers and staff
(Read article summary)
Clarksville school district is the latest rural school in a conservative state to give teachers handguns. But soaring insurance costs have often made such programs prohibitively expensive.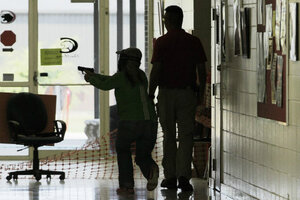 Danny Johnston/AP/File
A small school district in Arkansas will arm 20 volunteer teachers and staff with handguns starting in the fall, reigniting debate about the best way to protect children in schools.
The district will be the first in the state to arm teachers and is doing so under a state law that allows licensed, armed security guards on campus. The school's participants in the program, whose identities will be kept secret, will be considered security guards after undergoing 53 hours of training.
"The plan we've been given in the past is, 'Well, lock your doors, turn off your lights and hope for the best,' " Superintendent David Hopkins told the Associated Press. "That's not a plan."
Mr. Hopkins said a wave of parent calls after the Sandy Hook Elementary School shootings last December caused him to reevaluate their procedures, even though the town of 9,200 people about 100 miles northwest of Little Rock isn't known for being dangerous.
State officials have not blocked the plan, even though Arkansas Education Commissioner Tom Kimbrell has said that he opposes arming teachers and staff. Instead, he supports hiring law enforcement officers as school resource officers.
Participating staff in Clarksville's schools will be given a one-time $1,100 stipend to purchase a handgun and holster. The district will pay about $50,000 for ammunition and for training by Nighthawk Custom Training Academy, a private training facility in northwest Arkansas.
---