As Ariel Castro home demolished, Michelle Knight builds new life
(Read article summary)
The home where three Cleveland women were held captive for a decade by Ariel Castro was demolished Wednesday. Michelle Knight, who is becoming the public face of the victims, was there.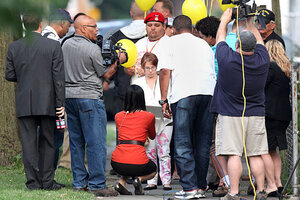 Marvin Fong/The Plain Dealer/AP
In less than 90 minutes Wednesday morning, the Cleveland house where Amanda Berry, Gina DeJesus, and Michelle Knight were imprisoned for about a decade was nothing but rubble.
Three months and a day after the three women escaped what was then Ariel Castro's house, it was demolished with Ms. Knight and family members of Ms. DeJesus in attendance.
The event, less than a week after Mr. Castro was sentenced to a lifetime plus 1,000 years in prison, is the latest symbol of recuperation for the women, their families, and the city.
Knight arrived before the 7:30 a.m. demolition with a bundle of yellow balloons that she said represented abducted children who were never found. After passing the balloons out to neighbors, the group released them before the first strike on the house.
"I want the people out there to know, including [abductees'] mothers, that they can have strength, they can have hope. And their child will come back," she said, CNN reports.
An aunt of Ms. DeJesus was in the excavator cab and helped land the first blow on the house as a group of about 100 neighbors cheered.
"It just felt great, knowing that it's coming down," the aunt, Peggy Arida, told WOIO-TV, CBS Cleveland affiliate.
---