Firefighters battle to turn tide against 'angry' wildfire near Idaho resort
(Read article summary)
The Beaver Creek Fire has caused the evacuation of 2,300 homes near the Sun Valley resort in Idaho. Some 1,200 firefighters and 19 aircraft are battling the wildfire.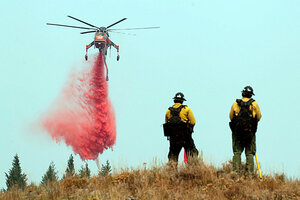 Ashley Smith/Times-News/AP
Firefighters are waging a furious battle against the Idaho wildfire that is threatening thousands of homes near the Sun Valley resort.
The Beaver Creek Fire has already consumed more than 100,000 acres and caused the evacuation of 2,300 homes near the communities of Ketchum and Hailey.
High winds, high temperatures, and rugged terrain have hampered firefighters efforts, though somewhat cooler conditions and cloud cover on Sunday helped firefighters limit its growth and create firebreaks.
Some 1,200 people and 19 aircraft are fighting the blaze, which started Aug. 7 with a lightning strike. According to InciWeb, it is now just 8 percent contained.
"Every fire has a personality, and this fire has an angry personality," Beth Lund, an incident commander with the US Forest Service team managing the fire, told Reuters.
Firefighters were using 14 helicopters on Monday to drop water on the blaze, up to 2,000 gallons at a time, and airplane tankers have dropped flame-retardant chemicals on key areas, including on Bald Mountain – the main hill at the Sun Valley ski resort.
Dry conditions in the sagebrush and pine forests have fed the blaze, and high winds have helped cause the fire's erratic and unpredictable behavior. But temperatures Monday were expected to be slightly cooler, with slightly higher humidity, and on Sunday, Ms. Lund expressed cautious optimism to Reuters. "I think we're getting to the point where we can start making some progress rather than just be on the defensive," she said.
---