On 'Today' show, Hannah Anderson explains relationship with James Lee DiMaggio
(Read article summary)
In an interview, Hannah Anderson talked about her alleged abductor, James Lee DiMaggio. But the interview is unlikely to end suspicions about various details in the case.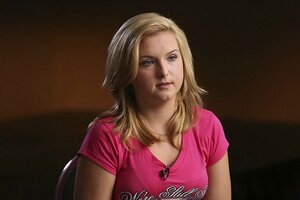 Jesse Grant/NBC News/REUTERS
In her first broadcast interview since FBI sharpshooters killed alleged abductor James Lee DiMaggio, teenager Hannah Anderson has explained some of the details about her relationship with the man said to be "like an uncle" to her.
While law enforcement authorities have continued to insist that Hannah was "a victim in every sense of the word," questions about her activities leading up to what has been portrayed as her rescue in an Idaho wilderness have persisted.
Why did she and Mr. DiMaggio have at least a dozen cellphone exchanges in the hours before authorities say the older man – against her will – took her north along rural highways through California and Oregon into Idaho?
At what point did she learn that her mother and younger brother had been killed in DiMaggio's home, which was destroyed some 20 hours later in a fire ignited by timers?
What did she write in the bundle of letters found in DiMaggio's home?
None of these questions were fully answered in Hannah's interview on NBC's "Today" show Thursday.
But the picture that emerges is of a southern California girl, recently turned 16, who in the past had turned to the older longtime family friend when her relationship with her parents hit a rough patch. (Brett and Christina Anderson had separated, and Mr. Anderson had moved to Tennessee.)
---