San Diego Mayor Bob Filner: About to resign?
(Read article summary)
San Diego Mayor Bob Filner, accused of inappropriate conduct by 18 women, reportedly has reached an agreement with city officials to call it quits. This opens the way for a special election.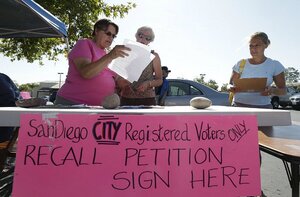 Gregory Bull/AP
It may be just hours before San Diego's disgraced Mayor Bob Filner resigns, ending weeks of revelation and political turmoil in the city.
Mr. Filner, a Democrat who formerly served in Congress, has been accused by 18 women of inappropriate touching and lewd comments, one of whom – Irene McCormack Jackson, the mayor's former communications director – has filed a sexual harassment lawsuit.
According to numerous news sources, Filner has reached an agreement with city officials to call it quits, opening the way for a special election to be held within 90 days. The deal came after three days of mediation before retired federal judge J. Lawrence Irving.
Details of the agreement still need to be approved by the City Council – all nine members of which have called for Filner to step down. The council is scheduled to meet Friday. Speculation focuses on relieving Filner of some of the legal and financial burden of the lawsuit, in return for which he agrees to leave.
"One of the sticking points of the negotiations had been how much taxpayers would be on the hook for his alleged misdeeds," U-T San Diego reported. "The proposal before the council is said to center on covering Filner's liabilities in exchange for his resignation. It is not clear whether any financial demands from Ms. Jackson would be resolved with the pending proposal or handled separately."
If Filner needed an additional nudge out the door, it was scheduled to come Friday when the Democratic National Committee (DNC) votes on a resolution condemning him.
Among others who have told Filner he should resign are California's two Democratic US senators (Dianne Feinstein and Barbara Boxer), House minority leader Nancy Pelosi (D) of California, and both the Democratic Party of San Diego and Democratic National Committee Chairman Debbie Wasserman Schultz, a US representative from Florida.
---