Dzhokhar Tsarnaev lawyers: Boston Marathon bombing trial moving too quickly
(Read article summary)
The lawyers for Boston Marathon bombing suspect Dzhokhar Tsarnaev on Monday asked a federal judge for more time to prepare a case against the death penalty.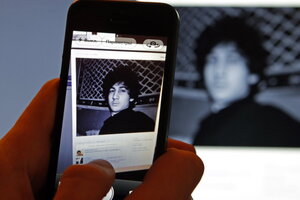 Alexander Demianchuk/Reuters/File
The lawyers for accused Boston Marathon bomber Dzhokhar Tsarnaev appeared in court without their client Monday and asked for more time to prepare a case against the potential use of the death penalty.
Defense attorney Judy Clarke said the prosecution had not presented the defense with all of the evidence it plans to use in the case, making it difficult for the defense to create a solid argument against the death penalty.
Assistant US Attorney William Weinreb countered, saying "six months is a reasonable time" to make a case.
Prosecutors plan to make a recommendation about whether or not to seek the death penalty to the US attorney general by Oct. 31. After the prosecution files its recommendation, Attorney General Eric Holder will have 90 days to make a final decision.
The death penalty is not allowed in Massachusetts, but because the trial is taking place in federal court, the death penalty is an option.
---