Young shopper accuses Barneys New York, NYPD of racial profiling
(Read article summary)
A young black man is suing Barneys New York and the New York Police Department, saying he was racially profiled and questioned after purchasing a designer belt from the luxury retail store.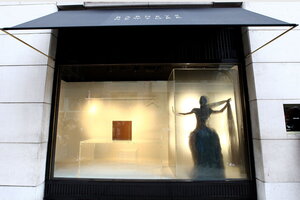 Neilson Barnard/Barneys New York/PRNewsFoto
A young black man who was stopped by police and briefly held after purchasing an expensive belt at the luxury retail store Barneys New York last spring has filed suit against the New York City Police Department and Barneys, accusing them of racial profiling.
The case has prompted an outcry from a New York-based civil rights group, and further strained the already-fraught relationship between minority groups and the city's police force.
"Further action will be planned against the NYPD, [which] has a history of racial profiling against young Blacks and Hispanics," the Rev. Al Sharpton's National Action Network said. The organization also asked for a meeting with the chief executive officer of Barneys on Thursday in the wake of alleged racial profiling against African-American shoppers, according to the NAN website.
The young shopper, Trayvon Christian, 19, filed the suit against both Barneys and the NYPD in Manhattan Supreme Court Monday for an incident that he said occurred on April 29. Mr. Christian, a New York City College of Technology freshman who was 18 at the time, said he had been saving up for a $350 Ferragamo belt he had seen rappers wearing. According to court documents, Christian paid for the belt with his debit card and left Barneys.
---