Winter storm Hercules sweeps out, leaving Northeast with loads to shovel
(Read article summary)
Winter storm Hercules packed more punch than had been expected. Before the storm exited the Northeast by midday Friday, parts of Massachusetts were coated in almost two feet of snow, and air travel was disrupted at the region's major airports.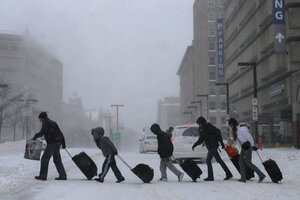 Brian Snyder /Reuters
A storm of herculean strength that unfurled across the Northeast Thursday night and into Friday morning dropped snowfall in many areas that exceeded forecasters' predictions and sent temperatures plunging to bitter lows.
In a dramatic, if frosty, welcome to 2014, the winter storm, dubbed Hercules, reached its apex overnight Thursday, dumping almost two feet of snow on parts of Massachusetts by Friday and causing parts of upstate New York to shiver in wind chills that notched in the minus 30s. The storm, which has had much of the mid-Atlantic and New England in a de facto hibernation since Thursday morning, scuttled travel plans, thwarted commuters, and prompted school closures around the region on Friday morning.
Eastern Massachusetts had the highest snowfalls as of Friday morning, with the towns of Topsfield and Boxford each accumulating more than 23 inches of snow, according to the National Weather Service.
A winter storm warning lasted in Massachusetts until 10 a.m. Friday, and the hard-hit eastern portions of the state were also under blizzard warnings, meaning that visibility will be at less than a quarter-mile for at least three hours. The National Guard is on standby to assist along the state's coast, where storm surges of more than two feet are likely in some areas.
---