Israeli-Palestinian fatalities drop, but other issues persist
In its year-end report, the leading Israeli human rights organization B'tselem noted a roughly 50 percent reduction in fatalities.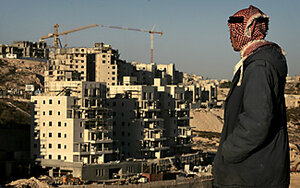 Sebastian Scheiner/AP
In its year-end report issued on New Year's Eve, the leading Israeli human rights group B'tselem said that the numbers of Palestinians and Israelis killed in clashes in the West Bank and Gaza Strip has dropped dramatically, but that other human rights abuses persist.
Overall, the number of both Palestinians and Israelis who fell victim to the conflict decreased, a benchmark year that is being quietly noted by analysts as a sign of progress in a troubled region.
B'tselem noted that the number of Palestinians killed by Israeli forces in clashes in 2007 dropped significantly from the previous year, but that there was an increase in other human rights violations. For example, there was a 13 percent increase in the number of Palestinians held in "administrative detention" without trial, averaging 830 people at a time.
Israeli troops killed 373 Palestinians in Gaza and the West Bank in 2007 as of Dec. 29, compared to 657 for 2006, B'tselem announced. Of those Palestinians who were killed, 35 percent were civilians who were not taking part in the hostilities when killed – down from 54 percent.
The human rights organization, a watchdog group critical of Israeli policy in the territories the state occupied in the 1967 war, also pointed to the deteriorating status of other issues it tracks. These include the humanitarian situation in the Gaza Strip, which B'tselem said was at "an all-time low, following Israel's siege on the area." Hamas, an Islamic militant movement, took over in a coup in June.
---