Global flash points: How to spot signs of peace
Monitor correspondents and experts suggest what to watch for in eight international conflicts.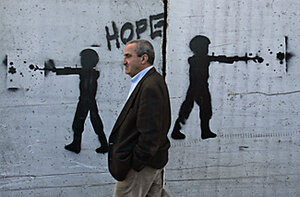 Sebastian Scheiner/AP
At the outset of 2008, many of the world's conflicts seem locked in a stalemate. But history shows that peace often comes as a surprise.
Indeed, if one looks at the resolution of major conflicts in the past 20 years, "almost none of them could have been anticipated just beforehand," says John Darby at the Joan B. Kroc Institute for International Peace Studies in Notre Dame, Ind. More than 40 peace deals have been signed in the past two decades, he says, in places as diverse as Angola, Guatemala, Aceh (Indonesia), and Tajikistan.
Next week, President George Bush heads to the Middle East to spur on the Israeli-Palestinian peace talks. Marc Gopin at George Mason University in Arlington, Va., notes that US administrations have often done their best conflict-resolution work in the last two years of an eight-year term.
---