A fish and a shark: a captured Israeli's fifth-grade parable
Supporters see hope in printing a tale in which enemies make peace.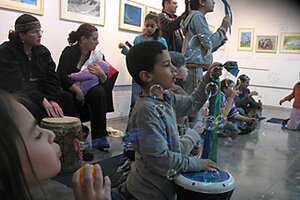 Joshua Mitnick
A shark, a fish, and an unexpected discovery are about to add a new title to the vast literature on the Israeli-Palestinian conflict.
"When the Shark and the Fish First Met" is an unlikely addition to the canon – written as it was by a fifth-grader little intent on turning his deep-sea characters into metaphors for the crisis.
But nine years after he penned the tale, its author, Cpl. Gilad Shalit, has gained international attention. Captured by Hamas 18 months ago, he has become something of a pawn in negotiations over a prisoner swap between the militant group and the Israeli government.
Israeli proponents for a deal hope printing Corporal Shalit's grade-school story will keep pressure up for a deal – and serve as a message for peace.
"In the heart of the Pacific Ocean swam a small and gentle fish. Suddenly, the fish saw a shark who wanted to devour him," begins the story that was found by his old teacher during a spring cleaning.
Now, a collection of illustrations that alternate between the ominous and the humorous have been commissioned to accompany the story, which will be published this week.
At the Edge Gallery in northern Israel, where the pictures are on display, gallery owner Lee Rimon says, "We are trying to figure out a way to keep the boys in the public memory."
---
Follow Stories Like This
Get the Monitor stories you care about delivered to your inbox.