Can the Arab League solve Lebanon's political crisis?
The Arab League's secretary-general flies into Beirut this week in an effort to end the country's presidential stalemate.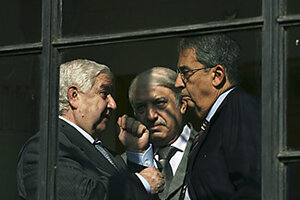 Nasser Nasser/AP
Amr Moussa, secretary-general of the Arab League, is expected in Beirut this week, the latest high-profile visit here in a string of efforts to solve Lebanon's six-week presidential deadlock.
He will push for the acceptance of a joint Arab proposal – a plan that supports the election of Army chief General Michel Suleiman – that was adopted unanimously Sunday at a meeting of Arab foreign ministers in Cairo. Syria, which backs the Lebanese political opposition to the Western-supported government, also approved the plan.
Where Mr. Moussa hopes to succeed, French and other Arab initiatives have failed.
Lebanon has been without a president since Nov. 23, when the previous incumbent, Emile Lahoud, left office at the end of his term. New elections have been delayed largely due to disputes over power-sharing.
Although the Lebanese opposition, spearheaded by the militant Shiite Hezbollah, has cautiously welcomed the Arab plan, analysts suggest that it could founder as rivals discuss the finer points in the days ahead.
"The devil is in the details and there are plenty of opportunities to derail the plan in the future," says Michael Young, opinion editor of the English-language Daily Star newspaper.
---