As violence ebbs, the next hurdle for Iraq is political progress
Prime Minister Nouri al-Maliki has vowed to capitalize on security gains to revive the political process in the coming year.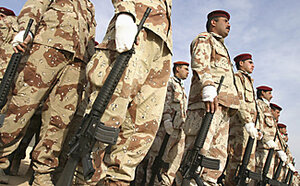 Mushtaq Muhammad/Reuters
This will be a pivotal year in Iraq. Nine provinces are now under Iraqi Army control. This year, the US plans to hand over responsibility for security in the remaining nine provinces. American military officials say that if current security trends hold up, it will withdraw four more brigades from Iraq by the end of July, bringing the number of troops back to its presurge level of around 130,000.
Prime Minister Nouri al-Maliki recently said the new security gains need to be bolstered by national reconciliation and a revival in the political process as well as economic growth. He vowed to do his utmost next year to spread the state's authority.
But it will take more than good intentions to get Iraq's feuding factions together to run a viable state, reports correspondent Sam Dagher in Baghdad.
Will it be reconciliation or more disintegration and infighting in 2008?
It boils down to the careful calculation by Iraq's various protagonists – politicians, religious leaders, and insurgents – as to what they actually gain by either resisting the political equation or trying to work within the system, says a senior adviser to Iraq's President Jalal Talabani, a Kurd.
---