Reporters on the Job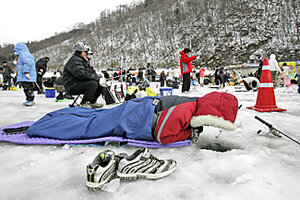 Ahn Young-joon/AP
• Tunnel Vision: Staff writer Dan Murphy got a taste of Gaza tunnelers' lives after being shown a half-finished shaft along the border with Egypt (see story). "I was standing with these Palestinian guys and they were urging me on, so I went for it," says Dan. He slid down a rope about 12 feet, then crawled on his hands and knees into a shoulder-width tube.
Dan says he started to have second thoughts a few seconds in. "It didn't help that every time my head bumped the roof, chunks of sand fell on me." But with an amused Palestinian guide at his back shouting "go, go," he scuttled to the end, where he was told he was about half way to Egypt. "At this point, about 100 yards from safety, in a tunnel without structural supports, I realized what an idiot I was. I practically flew back."
THE WEEK AHEAD
---
Follow Stories Like This
Get the Monitor stories you care about delivered to your inbox.