Reporters on the Job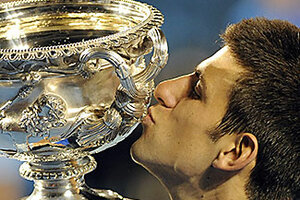 Tim Wimborne/Reuters
• Old Habits Die Hard: Correspondent Laura Winter has reported from Pakistan, off and on, since 2001. When President Pervez Musharraf spoke Friday in London, were Laura is based now, it was her first opportunity to see him as the civilian head of state. "After 46 years of military service, Mr. Musharraf took off his khaki uniform just two months ago," she notes. The former commander of Pakistan's military, spoke at the Royal United Services Institute, a London think tank focusing on security issues (see story). But, Laura notes, old habits are hard to break.
"He started to salute members of the audience, which included His Royal Highness, Prince Philip, husband of queen. He saluted not once, but three times before catching himself amid the welcoming applause," she observes.
Musharraf was relaxed, making jokes to a crowd that seemed to appreciate his challenges. And as he left to a hearty applause, he saluted three more times before walking out of a side entrance, says Laura.
---