Messenger images show hidden face of Mercury
In the first flyby of Mercury in 33 years, the NASA spacecraft captured thrilling new details about the little-known planet.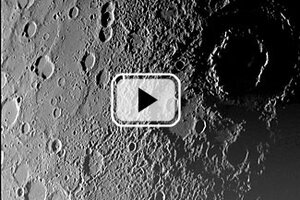 NASA
Mercury, one of the solar system's most enigmatic planets, is showing a new face these days. For scientists poring over the first portraits from National Aeronautics and Space Administration's Messenger spacecraft, the views are breathtaking.
For the first time in 30 years, scientists are seeing the full expanse of a vast impact crater, which has a bizarre spiderlike formation at its center; each "leg" stretches more than 50 miles. The spacecraft has also provided the first detailed measurements of the planet's tenuous atmosphere and its interaction with the solar wind.
These are among the initial observations scientists unveiled at a briefing Wednesday in Washington on the Messenger orbiter's first Mercury flyby on Jan. 14. The flyby was the first of two it will perform this year before it settles into orbit around the planet in 2011.
"This first encounter was just amazing," says James Head III, a planetary scientist at Brown University and a member of the mission's science team. Dr. Head prepared an initial set of maps for the mission showing unknown areas – the previous mission by Mariner 10 imaged 45 percent of the planet's surface. "Now, a significant part of that is filled in."
And while Messenger's images so far don't match the level of detail they'll reach once the craft orbits the planet, they're "revealing the totally interesting parts of the unseen side."
---